About the project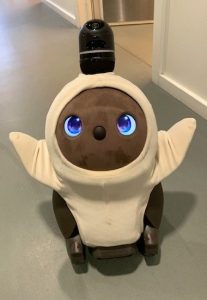 Dementia is a chronic disease that can cause memory difficulties and affect mental skills and social competences. International scientific studies have shown that the use of social robots as a tool for people with dementia can improve mood, improve social engagement and reduce their negative emotions. A social robot is defined as a robot that is capable of communicating verbally and/or non-verbally, as well as adapt its behaviour based on its surroundings.
The purpose of this study is to investigate:
How residents with dementia accept a social robot
Whether the social robot LOVOT can increase the well-being of residents with dementia in the present and over the long term
Advantages and disadvantages of using LOVOT as a tool in communication with residents with dementia
How the care staff experience using a social robot in the interaction with residents with dementia
Ethical aspects of using a social robot in the interaction between staff and residents with dementia
LOVOT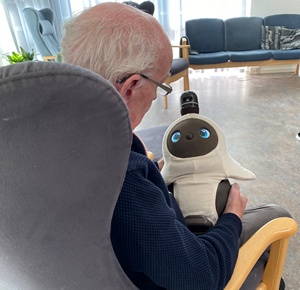 LOVOT is a social robot designed by Groove X.
The name, LOVOT, is a contraction of Love and Robot. LOVOT is designed to bring happiness, which it does with its evolving personality and person recognition. With its eyes and body language, LOVOT can show emotions. In addition, it can become warm like a living being and make noises.
Target group
The project's target group is residents with dementia, living in care centers in Aalborg, Viborg or Skive municipality, who are lonely, have high arousal or have introverted behaviour.
Partners in the project
Mou Care Center, Aalborg
Skovvænget care center, Bjerringbro
Skovbakkehjemmet care center, Skive
Quality and Innovation Unit, Elderly and Disability Administration, Aalborg Municipality
Testing and Development Center for Welfare Technology (TUCV), Viborg
Laboratory for Welfare Technology, SMI, Institute of Medicine and Health Technology, Aalborg University
International collaborating partners
GROOVE X, Inc., Tokyo, Japan
Funding
LOVOT is provided free of charge by the Japanese company GROOVE X (https://groove-x.com/en/). The project is financially supported by the Danish Health Authority with an amount of DKK 686,120.
Contact
Professor Birthe Dinesen
Email: bid@hst.aau.dk