Digital Communication between Patients and Healthcare Professionals after Hospital Discharge
About the project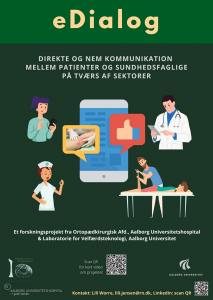 Orthopaedic surgery is the largest surgical speciality in Denmark, accounting for approximately 187,000 surgical procedures annually. In recent years, several orthopaedic surgical procedures have moved to day surgery and the post-surgery hospitalization period has been reduced. This means that patients and relatives, or municipal providers, must carry out symptom monitoring at earlier stages in the post-operative phase than previously. This situation may be experienced as insecure, and there is often a need for consultation with specialists at the hospitals, who may be difficult to reach. Inadequate communication between patients and healthcare professionals in the transition of care across sectors may lead to adverse events and low patient satisfaction rates.
In Denmark, some patients are given the opportunity to communicate digitally with hospital staff through patient platforms. It has the potential to create safer and more secure treatment processes for the patients, while at the same time changing the workflows for the healthcare professionals, since digital communication via text/image can take place asynchronously (meaning patients and healthcare professionals do not have to be present at the same time). However, research exploring the possibilities and barriers for digital communication in transitions of care from hospital to home as well as the effects of using digital communication after hospital discharge is sparse. Therefore, this project explores the experiences of using digital communication (eDialogue) after orthopaedic surgery and discharge as perceived by patients, relatives and healthcare professionals across sectors. Subsequently, the effects of eDialogue on unplanned contacts to healthcare and patients' perceptions of continuity of care and satisfaction after hospital discharge are investigated.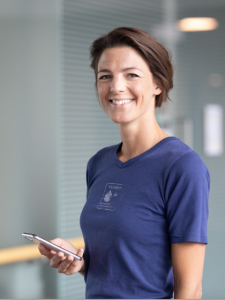 The project has the following objectives:
To investigate how patients, relatives and healthcare professionals experience using digital communication following patients' discharge from surgery
To investigate whether the use of digital communication can reduce the need for telephone calls to the hospital after discharge and at the same time improve the patients' experience of coherence and security in treatment and care in the transition between hospital and municipality
Co-creation
The project has been developed in collaboration with patients, relatives and healthcare professionals across specialist groups and sectors. Through workshops, interviews, and observations, we assess the needs and develop ideas for the use of digital communication, and these ideas are tested and evaluated in the project.
Target group
The target group for the project is orthopaedic surgery patients who undergo surgery, hospitalization and discharge at Aalborg University Hospital, and their relatives.
Partners in the project
Department of Orthopaedic Surgery, Aalborg University Hospital
Laboratory for Welfare Technology – Digital Health and Rehabilitation, Aalborg University
Aalborg Municipality, Quality and Innovation Unit, Bureau for Elderly and Disability
International collaborating partners
There is collaboration with a professor of psychology from the University of Regina, Canada on the translation of a questionnaire to be used in the project regarding patients' experience of coherence.
Funding
The eDialogue project is part of a larger research program (Clinical Intelligence) based at the Department of Orthopaedic Surgery, Aalborg University Hospital. The goal is to create an integrated solution using technologies that can help support the patients in their own homes using digital communication and sensor technologies. The Clinical Intelligence project has been supported by the North Jutland Region's Health Innovation Pool in 2020 with DKK 1.8 million.
The randomized controlled trial, in which we evaluate the effect of eDialogue, has been supported with DKK 400,000 by Helsefonden and with DKK 90,000 by North Jutland Region (grant for younger researchers).
Contact
Lili Worre, PhD Student
Email: lili.jensen@rn.dk
Phone: +45 60229406