Collaboration between master students in Clinical Science and Technology, AAU, Aalborg Municipality & Ory Lab, Japan:
The telepresence avatar robot OriHime as a communication tool for adults with acquired brain injury: an ethnographic case study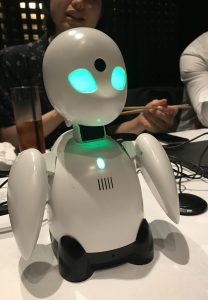 We conducted an exploratory ethnographic case study, applying the framework 'community of practice.' The intervention consisted of sessions where ABI patients at home interacted with a member from Aalborg Rehabilitation Club using OriHime. Data collection consisted of documentary materials, participant observations and semi-structured interviews.
Findings: The patients at home found nonverbal communication valuable, while the members at the rehabilitation center felt that OriHime lacked human features and preferred direct verbal communication. The technology facilitated a feeling of being a part of a community of practice between the participants, and it motivated the patients at home to participate in the rehabilitating activities at the center.
Reference: Vikkelsø, S., Hoang, T-H., Carrara, F., Hansen, K. D., & Dinesen, B. (2020). The telepresence avatar robot OriHime as a communication tool for adults with acquired brain injury: an ethnographic case study. Intelligent Service Robotics.
https://doi.org/10.1007/s11370-020-00335-6