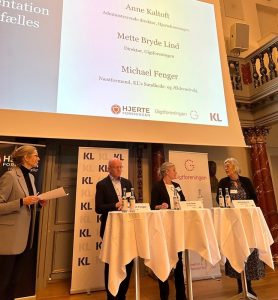 Hjerteforeningen, Gigtforeningen og KL har idag på Nationalmuseet i København lanceret et fælles udspil til fremtidens behandling af de mange borgere, der lider af en kronisk sygdom. Syv principper og to eksempler på konkrete behandlingsforløb skal vise vejen. De to eksempler har været for patienter med hjertesvigt og knæartrose.
De syv fremlagte principper for fremtidens behandling er: Større focus på forebyggelse; større rolle i eget forløb; differentierede indsatser; brug af teknologi til fx hjemmemonitorering; kvalitet; bedre udnyttelse af data og klar opgavefordeling på tværs af sektorer. Disse principper kan ingen være uenige om, og at det er et godt initiativ KL, Hjerteforeningen og Gigtforeningen har taget.
Der var en række faglige oplæg fra Jacob Kjellberg, professor VIVE, Anders Troelsen overlæge og professor Hvidovre Hospital, Søren Skou professor på SDU. Jeg holdt oplæg om "Bring teknologien i spil", og mit budskab var, at hjertesvigtspatienter ( og andre grupper af patienter) gerne vil bruge teknologien til fx hjemmemonitorering. Evidensen viser, at der er færre genindlæggelser, øget livskvalitet, øget mestring og bedre sundhedskompetencer med brug af teknologien. Dog skal vi huske de sårbare patienter, og at løsningen ikke er for alle.
Lad os komme igang i de danske regioner og kommuner, men implementering skal være "fast track", så det kommer det presserede sundhedsvæsen til gode.