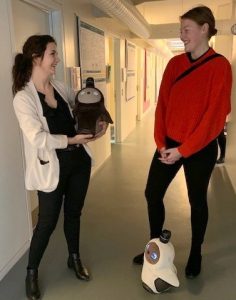 LOVOT – a new social robot from Groove X in Japan has arrived to Aalborg University.
The LOVOTs are named Anne and Lars and will be tested for the first time outside Japan in interaction with citizens with dementia this spring in collaboration with Aalborg, Viborg and Skive Municipalities.
The LOVOTs are designed to create joy, has memory (AI), remember people, recognizes own name and has unique personalities that develops over time.
The National Health Authorities in Denmark are funding the project.